Introduction to Digital Images
Here we'll look at how digital images work, and in particular the code to manipulate them. (Hat tip to Mark Guzdial and Barbara Ericson for promoting the media computation idea of using images, sounds etc. to introduce computers.)
Image Data
You see images on computers all the time. Here we will look behind the curtain, seeing how images are put together. What looks like a whole image to us, in the computer is a structure made of many little numbers.
Thematic Aside: this will echo a common theme in computer science -- what looks like an organic complicated whole, is "atomized" in the computer ... made up of a very large collection of very simple elements.
Here is an image of some yellow flowers: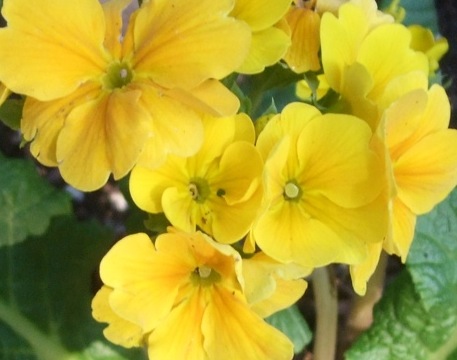 Zooming in on the upper left flower, we can see that it is actually made of many square "pixels", each showing one color: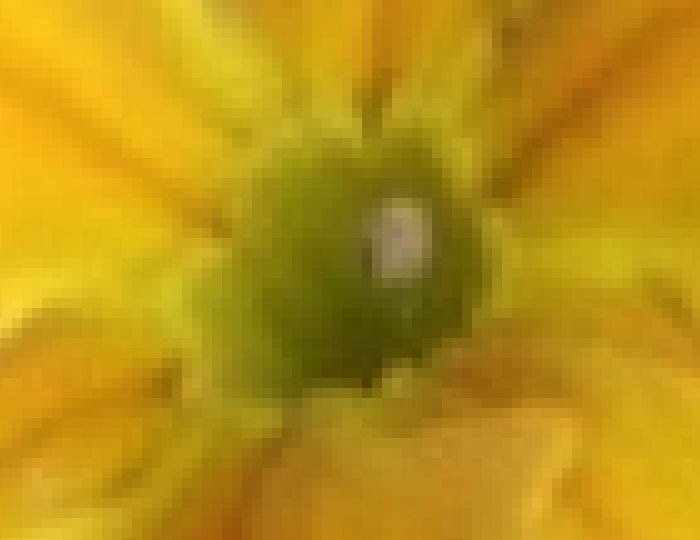 An image is a grid of little square "pixels", e.g. a 600 x 400 image is 600 pixels wide by 400 pixels high, 240,000 pixels in all
Each pixel is a small square that shows a single color
The pixels are organized as a grid, identifying each by an (x, y) coordinate
x=0, y=0 is the upper left -- aka (0, 0) the top left pixel of the whole image
x=1, y=0 is the pixel 1 to the right -- aka (1, 0)
x=2, y=0 is the pixel 1 more to the right -- aka (2, 0) -- still in the top row
The color of each pixel is set by three numbers: red, green and blue (detailed below)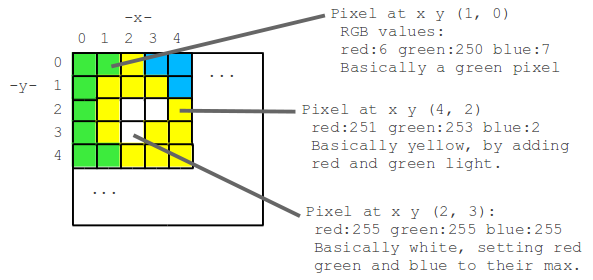 Pixel RGB - Red Green Blue
What is the color of a pixel? The color of each pixel is made by mixing together red, green, and blue lights of various strengths. Each of the red, green and blue light levels is encoded as a number in the range 0..255, with 0 meaning zero light and 255 meaning maximum light. So for example (red=255, green=100, blue=0) is a color where red is maximum, green is medium, and blue is not present at all, resulting in a shade of orange. In this way, specifying the brightness 0..255 for the red, blue, and green color components of the pixel, any color can be formed. See: RGB explore.
The code we'll play with later on will not require an intuition about what blue=137 looks like. However, you will need to understand that any color can be made by combining the three color components.
Here are some example RGB values
r:0 g:0 b:0 -- pure black (all values 0)
r:255 g:255 b:255 -- pure white (all values 255)
r:255 g:0 b:0 -- red (setting one color to 255 and the others to 0)
r:0 g:255 b:0 -- green
r:0 g:0 b:255 -- blue
r:255 g:255 b:0 -- yellow = red + green
r:255 g:0 b:255 -- violet = red + blue
r:0 g:255 b:255 -- turquoise = green + blue
In an image from the real world, the values are rarely exactly 0 or 255. Instead you have colors made from mixing intermediate quantities of the 3 lights.
Red, Green, and Blue Channels
Every pixel in the image is made with a mixture of red, green, and blue light. To see this, you can divide the original image into three color "channel" images, one for each color. Below is the flowers.jpg image followed by its three color channels. The red channel shows only the red light with green and blue stuck at 0, the next shows just the green light, and so on. Adding these three channels together yields the original image. Notice that the yellow flowers are bright in both the red and green channels. The green leaves pretty much only appear in the green channel. The blue channel is mostly near 0 everywhere, as the original image just does not have much blue in it.